Best Place to Stay & Ski in Whitefish
Whitefish, Montana, offers a plethora of stunning accommodation options, but if you're looking for a truly unforgettable and comfortable stay, look no further than Glacier Bear Condo. Nestled in the heart of Whitefish, this charming retreat provides an ideal base for exploring the wonders of the area.  Here, we will explore the reasons why staying at Glacier Bear Condo is a fantastic choice for your Whitefish getaway.
1. Prime Location:
Specifically, one of the standout features of Glacier Bear Condo is its prime location. And, situated just minutes away from the renowned Whitefish Mountain Resort. Here, you'll have easy access to world-class skiing, snowboarding, and other winter activities.  And, after a day on the slopes, you can conveniently return to the comfort of your condo without the hassle of a long commute.  As a matter of fact, how does 2 minutes sound?  Actually, that's about how long it takes to get to the door.
2. Luxurious and Spacious Accommodations:
Glacier Bear Condo offers luxurious and spacious accommodations that cater to both families and groups of friends. And, with 2 bedrooms, fully equipped kitchens and a cozy living area, Glacier Bear Condo offer all comforts of home. Also, the tasteful decor and thoughtful touches create a warm ambiance. Of course, we want to ensure a relaxing and enjoyable stay for our guests.
3. Outstanding Views and Proximity to Nature:
Now, if you appreciate breathtaking views and being surrounded by nature, Glacier Bear Condo will not disappoint.  Actually, you'll love looking out on the mountain, and waiting for the lifts to open – in the winter or summer!  And, you'll adore having a smaller quieter building to really enjoy some peacefulness. Additionally, the close proximity to Glacier National Park provides easy access to the park's wonders, including hiking trails, pristine lakes. And, don't. forget about the abundant wildlife you could see. Actually, you're only about 45 minutes away from GNP.
4. Thoughtful Amenities:
Of course, we tried to think of everything you may need. So, at Glacier Bear Condo we tried to go above and beyond to ensure a memorable and convenient stay. In fact, the condo is equipped with amenities like flat-screen TVs, internet, and 2 cozy fireplaces. Indeed, you'll be relaxing in no time after a day of exploration.  Or, try the private hot-tub on your private deck.
5. Immerse in Whitefish's Unique Culture:
Staying at Glacier Bear Condo allows you to immerse yourself in the unique culture of Whitefish.  In fact, the condo is located within a short distance from downtown Whitefish. Here,  you can discover boutique shops, and a range of dining options. And, you'll experience the warm hospitality of the locals. Or, you can explore the local farmers market. Actually, you can even catch a live music performance or two.  In fact, all of this is just a stone's throw away from your condo.
6. Year-Round Recreation:
While Whitefish is renowned for its winter activities, Glacier Bear Condo offers year-round recreation opportunities. Actually, during the summer months, you can enjoy hiking, mountain biking, scenic drives. Or, try watersports on Whitefish Lake. Or, would you prefer a guided fly-fishing trip? Remember, no matter the season, Glacier Bear Condo provides an excellent home base for exploring the diverse recreational opportunities that Whitefish has to offer.
Choosing Glacier Bear Condo for your stay in Whitefish, Montana, promises an unforgettable experience. Remember, with its prime location, luxurious accommodations, and thoughtful amenities, you'll have everything you need for an amazing vacation. So, book your stay at Glacier Bear Condo!  And, get ready to create lifelong memories in this charming mountain town.
DO  YOU  NEED  A  PLACE  INSIDE
GLACIER NATIONAL  PARK?
West Glacier Bear Cabin is Open During the Winter!
Visit our sister location, West Glacier Bear Cabin, inside Glacier National Park.  Oh, we've got you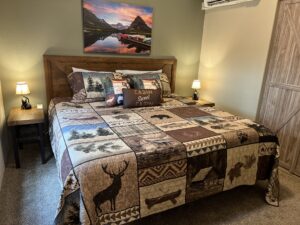 covered with our cozy 2 bedroom, 1 bath cabin when you want to stay close to the GNP action. And, it's in a perfect location at Apgar Village, just around the corner from Lake McDonald.  And, you'll love having on-site kayaks, stand-up paddleboards, mountain and e-bikes for our cabin guests to use anytime during their stay at the cabin.  Of course, you can choose one location or both! **Discounts are available if you want to stay at both properties**  
West Glacier Bear Cabin INSIDE Glacier National Park is now open DURING THE WINTER!!