Family Activities in Whitefish
Are you looking ahead to your summer vacation and wondering where your Whitefish lodging will be and what you're going to do in Montana? 
Well, read on…We've got you covered. First, look no more for where to stay. As you can see, Glacier Bear Condo is a spectacular choice and one of the best places to stay in Whitefish. Our chalet is pristine and quite roomy with Whitefish Mountain right outside the door.  Additionally, Chair 3 is in plain view from all our windows. So, it's perfect for ski season in the winter.
There are so many summer activities on Whitefish Mountain that are perfect for adults and kids from ziplining to chairlift rides and alpine carts. Hiking and mountain rentals are right in the village.  All of this is within an easy walk from Glacier Bear Condo.
Whitefish Lake
Now, what do you want to do?  Obviously, you're in an adventurer's playground when you're in Northwest Montana.  For boating or water activities, you can enjoy Whitefish Lake just down the road, about 10 minutes. Just head to the backside of the Lodge and the rental desk is on the docks. This is where you'll get your equipment too. You can email marina@lodgeatwhitefishlake.com for rental info or call 406-863-4022
Flathead Lake
For a bigger lake with plenty of space to put some speed behind your boat or go
fishing, tubing, or water skiing, make a day of it on Flathead Lake near Big Fork.  As a matter of fact, this is always on our to-do list with guests. The kind folks at Flathead Boat Company always set us up with a great boat and a comfy inner tube. Moreover, we'll grab sandwiches, chips, and drinks from the grocery store across the street, load up the cooler and head out.  You can do a 4+ or 8-hour rental. Give these nice folks a call at 406-883-0999.  Also, you can rent speedboats, pontoons, and jet skis.  You'll have a great 
And, when you're on the lake, you can cruise over to Wild Horse Island, tie up the boat, and do a little hiking and wildlife viewing.  There are still a few horses that inhabit the island. Moreover, there are big horn sheep, deer, and eagles too. To learn more about the island, please click HERE.  Also, Big Fork has some great restaurants for dinner after being on the lake all day. Trust me, you'll come back to your wonderful lodging at Glacier Bear Condo and be happy to crash in a big comfy king bed.
River Float Trip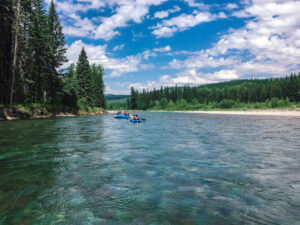 Now, if a river adventure is more your speed, reach out to the Glacier Guides Company to give you a few trip options down the Flathead River. From a relaxing scenic float in a raft or a float trip that includes dinner to a private float trip, you are sure to have a refreshingly memorable time!  For more information click HERE.
One more point, you can also rent bikes and arrange a fishing trip as well through Glacier Guides.  Before The Going To The Sun Road opens for autos, it is open in May for bikers and hikers. You can ride and the road and enjoy the scenery from a whole other perspective.  And, Glacier Guides has bike rentals and shuttles to really treat you to a cool ride.  Click HERE for details.
Treat Yourself
Remember, these are just a few suggestions. Actually, there is plenty more to do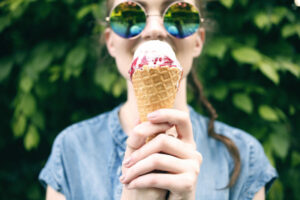 and see everyday. But, when you're back in Whitefish, make sure to swing by Sweet Peaks Ice Cream Shop for some homemade ice cream that is worth the wait. The line can be long but they are good at keeping it moving. If you need a little gift to take home, their hot fudge! It is creamy fudge deliciousness in a jar.  To learn more click HERE.
So when you're ready to stay at one of the best places in Whitefish, come stay at Glacier Bear Condo (formerly known as Snowbear Chalets). We will be thrilled to have you visit this summer… or winter… or any time of the year! When you think of a great vacation, think of Glacier Bear Condo in Whitefish.
Also, if you need a great place to stay inside Glacier National Park
near Whitefish, we have a sister location located in Apgar Village. Visit Glacier Bear Cabin. You'll have complete access to The Going To The Sun Road and kayaks, paddleboards, and e-bikes on-site for your use. But, book early. We can fill up quickly during the peak summer months.
Whether you stay with us on Whitefish Mountain or inside Glacier National Park, Glacier Bear Condo or Glacier Bear Cabin will have your Montana vacation covered.