Ski-larious Shenanigans: Surviving the Slopes with a Smile
Hey there, fellow snow enthusiasts!  Are you ready to hit the slopes and unleash your inner Olympic skier? Well, before you buckle up your boots, grab a hot cocoa, and dive headfirst into the fluffy white wonderland, let's take a moment to appreciate the humorous side of skiing. Trust me, laughter makes those inevitable wipeouts and wrong turns much more enjoyable!
1. The Elegant Octopus:
Ever watched someone gracefully glide down that majestic ski slope, only to find yourself clumsily tangled up in your own skis moments later?  Well, we've  all been there! As you know, skiing brings out the inner octopus in the best of us. Those flailing arms and legs as you attempt to maintain some semblance of balance. Embrace it, my friends. Yes, you are a beautiful, elegant octopus in the making!
2. The Ski Bunny Showdown:
Oh, picture this one. You're waiting in line for the ski lift, and you spot someone confidently skiing towards you with great skill and precision. And, as they get closer, you realize they're wearing a fluffy bunny onesie. Wait, what?  Yes, welcome to the world of ski fashion where anything goes.  Yes, it is a fashionista apocalypse up on those slopes. And, yes, the bunny onesies, neon tights, and retro ski suits are all part of the ski bunny showdown. No, there's never a dull moment!
3. The Fearful Fridge:
If there's one thing skiing and snowboarding have in common, it's the inherent fear of chairlifts. Further, the moment the infamous "bar" is lowered, even the bravest among us transforms into a terrified refrigerator.  In fact, they are worrying about falling off and causing a domino effect on innocent fellow skiers below. Actually, it's all part of the experience, right? Just remember, hold on tight and enjoy the breathtaking views.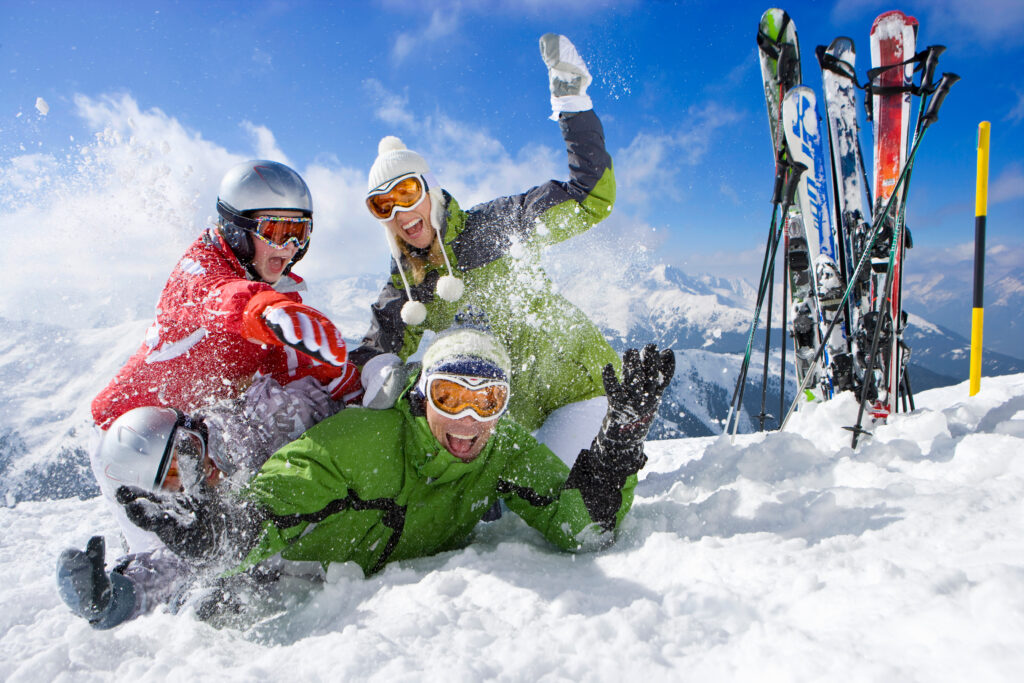 4. The Snowball Wars:
Who said skiing is all about serious athleticism and strict rules? Oh, think again! Certainly, you will take part in a lighthearted snowball fight while whizzing down the slopes.  And, it is a guaranteed recipe for laughter with your friends.  However, just make sure to pick your targets carefully. In all honesty, you'll want to avoid any "accidental" shots at unsuspecting skiers passing by. Let the snowball wars begin!
5. The Mighty Yeti:
While skiing, have you ever encountered a mysterious creature lurking beneath the fresh powder? Oh, Fear not, my friends, for it's most likely just a fellow ski enthusiast hiding behind a face mask and goggles. However, the infamous Yeti on the slopes is purely mythological (or is it?).  But, spotting one can be a hilarious moment of confusion and, eventually, relief.
So, listen up, daredevils and snow angels alike! Whether you're a seasoned skier or a first-timer, embrace the humor that skiing has to offer. Of course, just laugh at the missteps. And, revel in the bizarre ski fashion, and always make unforgettable memories on those fantastic slopes.  However, just remember to keep a smile on your face, even when you're face-planting into a pile of snow. And, Happy Skiing!
DO  YOU  NEED  A  PLACE  INSIDE
GLACIER NATIONAL  PARK?
If so, please visit our sister location, West Glacier Bear Cabin, inside Glacier National Park.  Oh, have we got you covered with our cozy 2 bedroom, 1 bath cabin. And, it's in a perfect location at Apgar Village, just around the corner from Lake McDonald. Furthermore, it has 3 on-site kayaks, 2 paddleboards, 2 mountain and 2 e-bikes for our cabin guests. And, guests can use these anytime during their stay at the cabin.  (Yes, it's included in the price. )
Actually, you'll love being so close to the trails, Apar Village and Lake McDonald!
Of course, you can choose one location or both! **And, yes, discounts are available if you want to stay at both properties**