Try a Snowmobiling Excursion
Are you ready to embrace the adrenaline rush of zooming through pristine snow-covered landscapes and experiencing the natural beauty of Montana like never before? Well, kook no further than snowmobiling.  In fact, this exciting winter activity will allow you to unlock the winter wonderland that is Montana. Actually, it will deliver the perfect blend of heart-pounding adventure and breathtaking scenery. And, it's an activity you can handle at most any age. Also, you can get a double-seater with a passenger behind you. So, prepare to embark on an unforgettable snowmobiling journey in this scenic corner of Montana.
1. A Snowmobiler's Paradise: Unveiling Montana & Glacier's Winter Charm
– Explore the captivating beauty of Montana's picturesque mountains during the winter season. Here, you can discover the snow-covered forests, the majestic mountains. And, if winter wildlife is active the thick blanket of snow will create the perfect backdrop for snowmobiling adventures.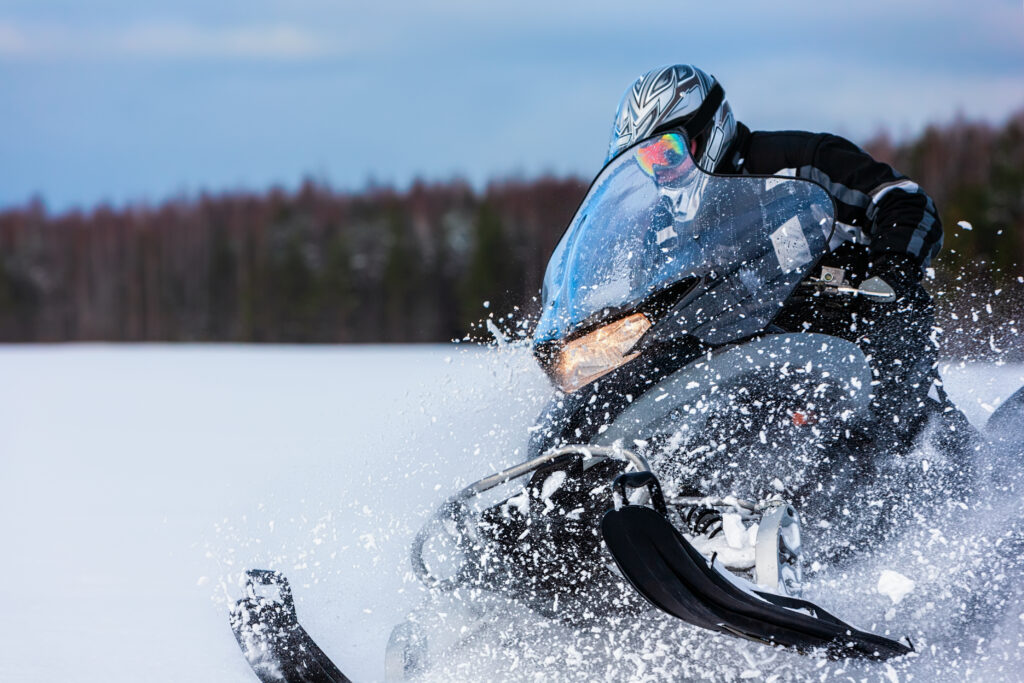 2. The Joys of Snowmobiling: A Perfect Winter Pursuit
– Dive into the reasons why snowmobiling is an absolute blast. In fact, you'll love the adrenaline rush of speeding through groomed trails. And, you'll embrace the freedom of exploring untouched powder fields. Quickly, you'll discover how snowmobiling offers a thrilling way to embrace our winter months.
3. Top Snowmobiling Trails in Olney with Glacier National Park Views
– Uncover the best snowmobiling trails Northwest Montana has to offer. In fact, you can take
the rental machines out. Or, you can enjoy a guided adventure. And you'll love the heated features so you'll stay warm.  What's more, you'll ride on popular trails such as Teton Pass and see parts Whitefish Mountain Resort, or nearby Glacier National Park. Of course, you'll discover the various terrains, stunning vistas, and unique features these trails showcase.
4. Safety First: Tips and Tricks for a Secure Snowmobiling Experience
– Snowmobiling can be exhilarating but safety should always be a top priority. Local guides provide you with essential safety tips and proper gear. They make sure you understand avalanche risks and stick to trail rules so you have an enjoyable snowmobiling experience.
5. Guided Snowmobiling Tours: Enhance Your Adventure
– Take the hassle out of planning and consider booking a guided snowmobiling tour. Learn about local tour operators who can provide knowledgeable guides, top-quality equipment, and expertly planned routes, maximizing your snowmobiling adventure. If you're new to the area, guided tours are really the best option.
Northwest Montana is a hidden gem of winter adventure, offering snowmobilers unparalleled access to stunning landscapes and thrilling trails. Whether you're an experienced rider or new to the snowmobiling scene, Glacier Bear Condo invites you to discover the joys of exploring this winter paradise. Embrace the adrenaline rush, revel in the natural beauty, and create memories that will last a lifetime as you embark on an unforgettable snowmobiling adventure in Olney, Montana.
If you're looking for a good guide, we recommend Northwest Montana Adventure.  Their equipment, gear and guides have always served us well when we've used them. They're just less than 30 minutes away. Northwest Montana Adventures runs their snowmobile adventures starting December 1 – mid April. Give them a call or click HERE for more info. If you're coming during the summer, their ATV and UTV trips are a blast too!
DO  YOU  NEED  A  PLACE  INSIDE
GLACIER NATIONAL  PARK?
West Glacier Bear Cabin is Open During the Winter!
Visit our sister location, West Glacier Bear Cabin, inside Glacier National Park.  Oh, we've got you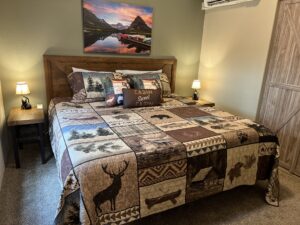 covered with our cozy 2 bedroom, 1 bath cabin when you want to stay close to the GNP action. And, it's in a perfect location at Apgar Village, just around the corner from Lake McDonald.  And, you'll love having on-site kayaks, stand-up paddleboards, mountain and e-bikes for our cabin guests to use anytime during their stay at the cabin.  Of course, you can choose one location or both! **Discounts are available if you want to stay at both properties**  
West Glacier Bear Cabin INSIDE Glacier National Park is now open DURING THE WINTER!!