Why Whitefish Mountain is Your Ultimate Ski Destination
Are you ready to hit the slopes and experience a winter wonderland like no other? Look no further than Whitefish Mountain, nestled in the heart of Montana. In fact, whether you are a novice or an expert skier, Whitefish Mountain offers an unforgettable experience for individuals and families alike. In this travel blog post, we will delve into what makes Whitefish Mountain the ultimate ski destination.
1. Massive Terrain and Epic Snowfall:
Spanning over 3,000 acres, Whitefish Mountain offers a vast terrain that accommodates skiers of all skill levels. And, with 105 marked runs and a vertical drop of 2,353 feet, there is something for everyone.  In fact, Whitefish Resort receives an average of 300 inches of snowfall annually, ensuring a pristine skiing experience throughout the winter season.
2. Breathtaking Views:
Once you ascend to the top of the mountain, you'll be rewarded with breathtaking panoramic views of Glacier National Park, Flathead Valley, and the surrounding mountains. Further, the vistas from Whitefish Mountain are truly awe-inspiring and make your ski experience even more memorable. And, yes you can see into Glacier National Park from atop Big Mountain.
3. Variety of Terrain and Trails:
From groomed beginner slopes to challenging mogul runs, Whitefish Mountain caters to skiers of all abilities. Furthermore, the mountain features dedicated areas for beginners, intermediate skiers, and experts. So, if you are craving an adrenaline rush, explore the steep and deep bowl skiing areas at the resort. Additionally, the resort offers obstacles and competitions for snowboarders to showcase their skills.
4. Family-Friendly Environment:

Whitefish Mountain is renowned for its family-friendly atmosphere. Kids and beginners can take advantage of the Ski and Ride School, which offers lessons for all ages.  And, the instructors are experienced and passionate about teaching, ensuring a fun and safe learning experience. Actually, there are various activities for families. Nearby, you can find great activities for snowmobiling, fat tire biking, snowshoeing, and ice skating. Actually, Whitefish is a perfect winter destination for everyone.
5. Authentic Mountain Town Vibe:
As a matter of fact, Whitefish, the charming town down the mountain, adds to the allure of the ski destination. With its one of a kind shops and boutiques, and delicious dining options, you'll feel right at home after a day on the slopes. The friendly locals further enhance the authentic mountain town experience.
6. Off-Slope Activities:
Whitefish Mountain offers a variety of activities beyond skiing. You can explore the surrounding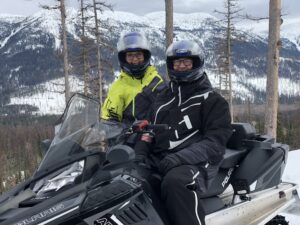 natural beauty by going snowshoeing or snowmobiling. Or, if you're seeking an adrenaline rush, try the snowmobiling or cross-country skiing on the nearby trails. Don't miss out on relaxing in the hot tub or taking a rejuvenating spa treatment to complete your winter getaway. And, at Glacier Bear Condo, you'll enjoy the private jacuzzi on your private deck. It doesn't get any better.
Of course, if you want to bring in a private chef to really soak in the luxury, we highly recommend Black Sheep Private Dining. From our first hand experience, you won't regret this! So, definitely treat yourself with a private meal or go all out and get a 4, 5 or even 8 course meal.
7. Easy Access and Affordable Pricing:
Whitefish Mountain is easily accessible, with Glacier Park International Airport just 19 miles away. Additionally, the lift ticket prices and our affordable slopeside accommodations make it a budget-friendly ski destination.
Whitefish Mountain offers a perfect combination of breathtaking scenery, exceptional terrain, and a welcoming community. Whether you are an experienced skier or a beginner, we promise that your stay at Glacier Bear Condo on Whitefish Mountain will leave you with unforgettable memories. So, grab your skis and get ready to experience the magic of Whitefish Mountain this winter season!
DO  YOU  NEED  A  PLACE  INSIDE
GLACIER NATIONAL  PARK?
West Glacier Bear Cabin is Open During the Winter!
Visit our sister location, West Glacier Bear Cabin, inside Glacier National Park.  Oh, we've got you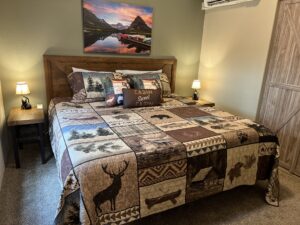 covered with our cozy 2 bedroom, 1 bath cabin when you want to stay close to the GNP action. And, it's in a perfect location at Apgar Village, just around the corner from Lake McDonald.  And, you'll love having on-site kayaks, stand-up paddleboards, mountain and e-bikes for our cabin guests to use anytime during their stay at the cabin.  Of course, you can choose one location or both! **Discounts are available if you want to stay at both properties**  
West Glacier Bear Cabin INSIDE Glacier National Park is now open DURING THE WINTER!!